Last month, the current class of Repair the World Fellows held their final closing circles and said so long – but not goodbye! We've been incredibly inspired by their work as change makers during their fellowship year, and are excited to keep up with them in the months and years to come.
First up, here's Shannon Ferguson who was one of Repair the World's Education Justice Fellows in New York City. She took some time to share the impact she was able to have on others over the course of the year, and the impact the fellowship had on her – including inspiring her to pursue a dream of sharing her passion for the ukulele with students across the United States! Check out her story below (and learn more about her uke tour on her GoFundMe page!), then find out more about becoming a Repair the World Fellow.
What drew you to being a part of the Fellowship?
I graduated college in 2014 and the following year became a full time teacher in New York City. I enjoyed my work but felt there was a lot more I needed to learn in order to be as effective as I wanted to be. I thought about switching from teaching and went to a food justice conference where I ended up meeting a Repair the World fellow. When I realized that there was an organization that focused on both education and food and social justice, it felt perfect. I am Jewish so that was a nice addition, but that is not what originally drew me to the program.
Tell me about the projects you worked on during your fellowship year?
One of the organizations I worked with was Brooklyn Community Services. They are a non profit that has been around for 150 years working with youth at risk and adults with mental illness and developmental disabilities. We worked with their Gary Klinsky Children's Center, which runs an after school program from kindergarten through eighth grade. We brought volunteers there to tutor and play with the kids. I was also there every week working with the classroom teachers, helping kids with their homework, and teaching them ukulele.

Another organization we worked with was New York Cares. I worked on their major days of service and worked closely with a school in Bedford Stuyvesant planning beautification projects. I also worked with the Brooklyn Children's Museum. On Martin Luther King Day we had volunteers come and do a big event. We also hosted a Passover traditions exhibit, planning exhibits throughout the museum like making your own seder plate and tasting Passover foods.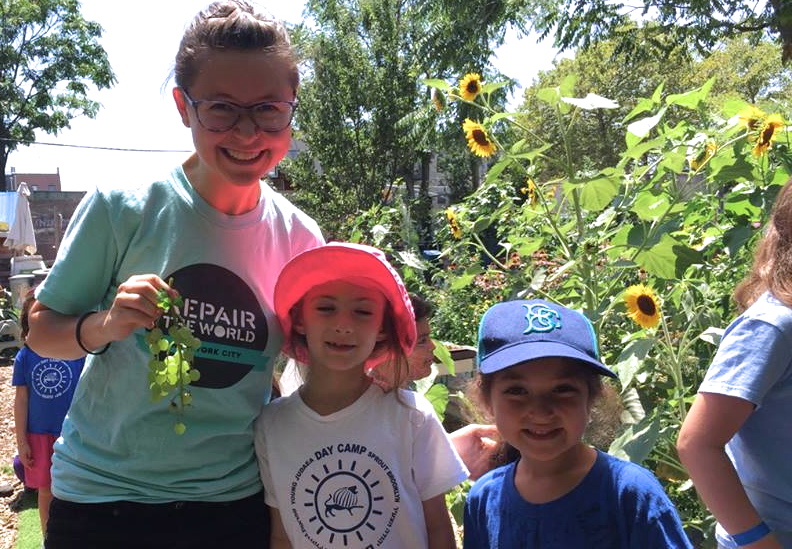 Wow, that's a lot!
One other program I started was a ukelele club. The model of the fellowship is to listen to the needs of the community and create opportunities guided around those needs. As the year went on, I saw that there weren't any free music programs in the community, so I asked my boss if we could start a club. Repair the World supported the venture by buying 10 ukuleles and I began a weekly get together and lesson. It started out with mainly my friends, but then it grew to include people who had come to an event or seen a sign around the neighborhood. We also ended up volunteering at a school. One of the farmers from Imani Garden, which is one of the groups Repair the World partners with, became the co-leader of the club. Now that I'm leaving they are keeping it going.
Who is one person you met during the year that you will never forget?
We had an opportunity to meet important people from the Crown Heights community including a man named Richard Green. He grew up here, went away for college, and came back to start some amazing programs within the community. He's run after school programs, summer camps, and does a monthly food giveaway. He's well known in the community. If anyone has a problem with anything he'll connect them with the right people. He has an office he works out of that has pictures of him with former presidents, the Lubavitcher rebbe, and many other influential people along with thank you letters written by kids he worked with.
We had a meeting with him for an hour. He baked us all cookies and told us his story. While he was talking, his phone would ring once in a while. Each time he'd answer it and say, "I'm in a meeting right now, but I'll get back to you." And you knew that he would. It made a huge impact to see how connected he was to his community, and how seriously he takes that.
What will you be "taking with you" from the fellowship?
Growing up, I didn't feel very connected to Judaism. But during this fellowship I've learned that social justice is a huge part of Judaism, and it is possible to express your Jewish identity through engaging with it. That's very meaningful to me now.
I also think I've gained a comfort level of talking with people different from myself. I grew up in a Long Island community, and when I graduated college and started teaching in East Harlem, I felt like I didn't know how to relate to my students' parents. Today I feel so much more comfortable talking to anybody. I've had the opportunity to engage with volunteers and people getting food at a food bank. I've talked with children and CEOs. Repair the World has actively helped to facilitate this growth through workshops, but a lot of it has to do with sitting at the front desk of Repair the World's community space all year and opening the door for people from the community who were stopping by to find out what it was.
What are your plans for life after the fellowship?
It's a little crazy. I've had this dream for years, since I was in college, that I wanted to get a truck and fill it with ukuleles and drive around teaching people how to play. I was scared and I felt like it was a selfish, privileged thing to want to do, so I never acted on it. It made me uncomfortable to think about my privilege, so I didn't. But this year I have learned to acknowledge it and actively think about what it means and how it effects others. I realized I have a skill at making people feel comfortable about making music. I've taught people of all ages, in formal settings and randomly on the subway or on a park bench. I've realized it's not selfish to want to share something you're passionate about. So I'm going to do that. I'm going travel around the country and teach people ukulele for free. People can follow along the journey, or join in, at Yesukecan.com.