In this sit down interview with Pittsburgh Magazine's (and Repair the World Pittsburgh Advisory Committee Member) Hal B. Klein, we dive in to his history with food, food justice, Repair the World, and his love for the city of Pittsburgh.

Name: Hal B. Klein
Resides in: Bloomfield, Pittsburgh.
Current Job: Restaurant Critic and Associate Editor, Pittsburgh Magazine
Age: 42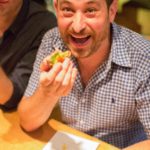 Repair: Tell us a bit about your background.
Hal: I was working as an actor in theater and film, and around 2008 I decided I wanted to try something new. I always had been interested in food, and I found this program at Chatham University in Pittsburgh offering a new Master's Program in Food Studies. It sounded like a pretty cool multi-disciplinary program looking at food systems, so I decided to give it a shot.
And how did you get into writing about food?
Well I knew I wanted to do something communications related, so I took a food writing class in my program the summer between my first and second year. The professor told our class that the local alternative weekly magazine was looking for someone to write about alcohol. So I pitched the editor there and got the job. Later I became friends with the new restaurant critic for the Post-Gazette. One time she couldn't do a story and gave it to me. That led to an ongoing freelance gig with them, and then I got my full time job with Pittsburgh Magazine where I am Restaurant Critic and Associate Editor.
How do you approach your work and how do your stories come together?
I'm usually working on one or two big features at a time. I really try to focus on people or issues so my stories are more than just lists about food. One story I did recently focused on international restaurants; I focused on the people running the restaurants so it really became a story about immigrants. I'm now working on a story about people who were incarcerated and are now working in restaurants, which presents both great opportunities but certainly some challenges too. I do about four print columns a month, which includes a restaurant review, and an online column. Another cool thing is that because I'm also an editor, I get to write my own headlines, which is very rare in the world of journalism.
How does your work fit in with the mission of Repair the World?
First I should say that I have not covered food justice issues as much I'd like to, and I really plan to cover it more in the next couple of years. Pittsburgh is fortunate to have organizations like Repair. Change happens when people talk to others from different backgrounds and with different challenges, and together they try to overcome them. I know Repair brings people together to start talking initially, and then to have that conversation lead to action. Going to dinner and hearing from a diverse assortment of people, really having a forum for challenging discussions, will lead to systemic change driven by younger generations. Nationally, food justice is a very serious issue and it manifests itself in ways a lot of us cannot even fathom. I've met people who don't have refrigerators. Organizations and leaders are doing great work. But these are very tough issues—it's hard to change systems; hard to equalize the playing field; and hard to engage people.
What are you specifically seeing in Pittsburgh with food justice?
Pittsburgh has a lot of people who want to provide food access to as many people as possible. Along with Repair locally, 412 Food rescue uses tech really well to get people food. They have a mobile platform for restaurants to post when they have extra food, and people get alerts so they can then pick up the food and deliver it. This idea of "Tech and human touch" is defining Pittsburgh. We also have a problem that other cities have: how do you pay workers in the kitchen more than $8.50/hour without raising the price at the restaurant of a meal? It's not easy for customers to understand that cause and effect, but we have to convince people that this makes sense for the economics of society.
What's Pittsburgh like as a city?
I moved here is 2010 and fell in love with the city. It's really amazing to see the growth of the city in terms of people and also the number of restaurants here now. This city really is built on people and the enriching and exciting communities they create. Pittsburgh is big enough to have a lot going on, but small enough to have a real feeling of community. You might go somewhere and not know people, but soon enough you talk to people and quickly find a connection. One other defining quality of Pittsburgh is that I haven't found there to be cutthroat competition like in other cities. There's healthy competition to do well, but people really help each other too.
And what about the Pittsburgh food scene?
There's a long history here of Eastern European food; it's actually known locally as "hunky food," a term that sometimes used to carry a negative connotation, but is used more often today as a term of endearment. Yet with so many restaurants opening now there's a re-definition of Pittsburgh food. Some people are taking the Eastern European cuisine and refreshing it; others are trying things more along the lines of the national food scene. And with a newer wave of immigration from China, we're seeing great regionally specific restaurants popping up serving diners who know how to navigate a regional menu.
And finally, I have to ask – what's your favorite food?
That's easy – delicious food.