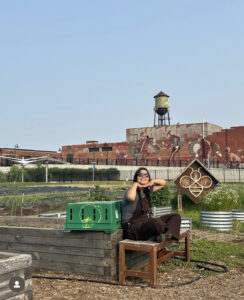 Emily has valued Jewish service and social change since she was young. "I feel like ever since I was little, being Jewish to me was way more than reading Torah and text. It was really based in community and values." Emily was engaged in Jewish life through Camp Tel Yehudah as a camper and staff member, and also served as a youth advisor with Young Judaea. 
After high school, Emily studied at Bard College, and during her time there, she focused on governmental policy and economic discrimination, but felt a disconnect between the learning in the classroom and the real impact in the world. This is what motivated her to participate in the fellowship. "I wanted to really root myself in community driven, service-first projects and see what that looks like outside of the classroom." 
Emily went on to participate in a virtual program with Repair the World over her 2020 winter break and learned about the Repair Fellowship through this experience. She knew then that it would be the perfect opportunity to combine her passion for service and social change with her background in Judaism and education.
As a fellow in Detroit for two years, Emily accomplished a great deal. She served alongside Repair service partner Keep Growing Detroit, learning about urban agriculture and how deeply urban gardens can root a community. She supported their work of ensuring more than 2000 Detroit gardens thrived. And, Emily independently organized 36 programs for Repair the World Detroit, with three of those events bringing in over 50 folks to engage in Jewish service. Running these events allowed her to "hone in on facilitation and people skills, build community from scratch as a newcomer to the area, and act as a connector for young Jewish Detroiters looking to serve."
One of Emily's favorite programs to lead was with the Jewish feminist circle at University of Michigan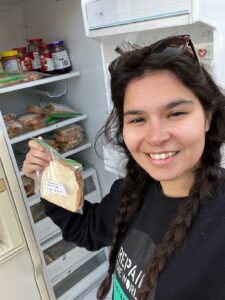 Hillel. The event included a donation drive to collect menstrual products for I Support the Girls and a facilitated session on menstruation justice. Emily was able to see the Repair value of action and learning, na'aseh v'nishma, shine during this event. "Even though it was my first time interacting with the group, it was such a safe, comfortable space. We had to be willing to care for others while being vulnerable. Learning with the Jewish feminist circle and seeing the gears turn for the students was just amazing."
The Repair the World Fellowship's goals are: to provide young professionals with the tools to take action to pursue a just world, serve alongside local nonprofits addressing community needs, mobilize peers to volunteer, and engage in Jewish learning and professional development. Emily was able to take full advantage of the fellowship, and says, "I have found a lot more connection to Judaism through the fellowship by being able to put my values into action. I am now able to incorporate my values into my work and voice why they are important. I want to continue working with Jewish nonprofits so that I can carry on exploring what these values mean to me."
Emily Levine (she/her) was born and raised in Mid-State New York. She is a graduate of Bard College, where she studied economics and gender studies. Emily served as a Repair the World fellow in Detroit from 2021-2023. Through her time in the fellowship, she served at an urban farm in the city called Keep Growing Detroit. Emily has been involved with several Jewish nonprofits in leadership positions including Young Judaea and Camp Tel Yehudah. Emily will continue to be involved with Repair as she makes Pittsburgh her new home.