By Jacqueline Broder and Ilana Gatoff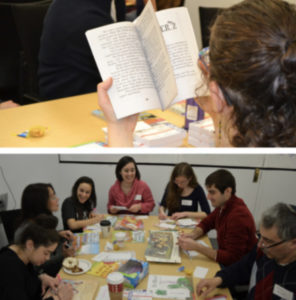 During our celebration of Chanukah, we commemorate how thousands of years ago, people persevered with their traditions despite seemingly insurmountable odds. Each year brings forth new hardships and obstacles. But this year, the devastation caused by Hurricane Sandy created a new urgency around rededication and renewal. When Repair the World decided to spend a HoliDay of Service packing literacy kits for the first and second graders of PS 253, it wasn't only the devastation that touched our hearts and opened our eyes – it was the untold stories of people from different backgrounds joining forces to forge through the flooding.
Assessing the damage
PS 253, The Magnet School of Multicultural Humanities, is an elementary school located in the neighborhood of Brighton Beach that was hit by Hurricane Sandy. As the name suggests, the students come from diverse backgrounds; but they all experienced the same horrific aftermath of the Hurricane.
The school's basement was completely flooded, damaging school supplies, including years worth of art materials and books. Beyond the school, families of students experienced severe destruction to their homes, businesses, and places of work. With the commercial strip in Brighton Beach shuttered, some parents even lost their jobs. The community is still struggling and grappling with longer-term recovery issues, but staff members like Parent Coordinator Gina Dacchille have been working overtime to bring comfort to their school community. With so many students displaced, PS 253 has become a community hub, with Ms. Dacchille, the heroic teachers, and award-winning Principal Lisa Speroni working tirelessly to manage donations, coordinate FEMA information sessions, and supporting the individual needs of families.
Repair in action
With many families struggling to provide their children with enrichment and entertainment because of the disruption to their daily routines, Repair, in partnership with PS 253, saw an opportunity. Using the experience and expertise from our current education campaign, Repair offered to pack literacy kits for the students to enjoy at home. The team at PS 253 were thrilled and pointed out that with winter break just around the corner, students would have an opportunity to share these kits with siblings and friends.
On December 9th, the first day of Hanukkah, Repair the World staff joined up with an amazing group of volunteers from all over the tri-state area to participate in an important HoliDay of service. Nearly forty volunteers buzzed about, together with our Repair staff, to transform stacks of children's books into reading kits for first and second graders at PS 253.
From The Magic School Bus to Curious George, Repair the World backpacks were stuffed with well-known children's books, handwritten flashcards written by volunteers that included words from the book to help students build their vocabulary skills, personal holiday notes from volunteers, a notebook, glittery pencil, rainbow crayons, and the coolest of all – a little book light to clip onto their new book and read in the dark. Our volunteers were packing machines, exceeding our original goal of 200 kits and ending up with a total of over 230 – one for every first and second grader in the school! Additionally, our partners at Midtown Workmen's Circle School collected over 100 books that were given to the school for their library and classroom use.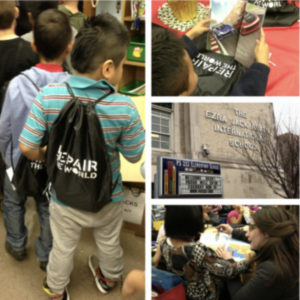 Back to school
Fast forward a week later…this past Monday, Repair the World's campaign team played hooky in order to visit the staff and students of PS 253 in Brighton Beach. The trip in and of itself, was eye opening – the destruction is still visible, and everywhere.
We arrived at the school just in time to present the kits to approximately 200 students right before dismissal. The staff graciously let us spend time with each class of students, who gleefully ooed and ahhed as we unveiled the contents of each kit. "We heard you liked to read," we explained to each class, "is that true?!" Each group's impassioned cheers of "yeah!" combined with their genuine enthusiasm around being able to create their own "word walls" with their new flashcards showed us that these students, and this school, were special.
While all kids love sparkly crayons, it takes someone who knows that learning is fun to rejoice over a book light or a vocabulary card. Each colorful classroom, hand-painted book mural, and shining bulletin board we saw at PS 253 spoke to the commitment of the teachers and staff to create a community where joy is equated with knowledge. Their team has maintained that same feeling, even while they collect cots and sleeping bags for children who still sleep on the floor of moldy apartments, or light-up shoes for kids who lost sneakers in the same eight feet of water that destroyed the schools brand new, $3 million heating system.  Whether it was packing hundreds of bags with make-up and toiletries for students mothers, providing water, housing FEMA agents, or giving a few extra hugs, the staff of PS 253 have turned their community into a hub of service. Different cultures, different religions, different beliefs – all have been inspired and united by the kindness of the PS 253 community.
Repair the World is currently assessing the needs of other local schools that have been impacted by Hurricane Sandy. We will continue to work with PS 253 throughout the school year in a variety of capacities – everything from assisting with their famous science fair in the winter months, to collecting and distributing donated items.