FOR IMMEDIATE RELEASE
July 25, 2023
Repair the World Announces Four New Members to Join Board of Directors
New board members have been involved with Repair in different capacities, showing strong leadership pipeline for Jewish service movement.
(New York) – Repair the World, a national organization that mobilizes Jews and their communities to take action to pursue a just world, proudly announces four new members to join their board of directors. 
"We are extremely proud to be adding such phenomenal talent to our board, and excited for the enthusiasm, breadth, and depth of experience these four will bring to elevate Repair's mission and strategy. This cohort of new board members includes a fellowship alum, a Baltimore Repair advisory council member, the founding chair of NY Repair's advisory council, and a global HR leader. Now, they'll combine their skills with a deep commitment to service as we grow, innovate, and expand our impact together," said Robb Lippitt, Board Chair.
The four new directors include: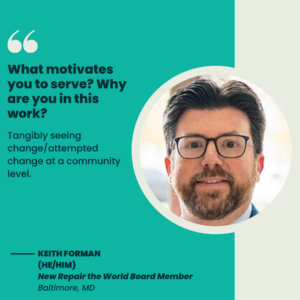 Keith Forman (he/him), Baltimore, MD. Keith Forman is the managing partner at Wais, Vogelstein, Forman, Koch & Norman, LLC, a litigation firm devoted to representing children catastrophically injured because of medical and nursing malpractice.
A trial lawyer, Keith has tried numerous cases to verdict, including obtaining the largest jury verdict in a medical malpractice case in United States history. Keith is active in his community and currently sits on the advisory council for Repair the World Baltimore. He is also on the Ed Block Courage Award Foundation board.
As a lifelong Baltimore resident, Keith is a die-hard Ravens, Orioles, and Terps fan. He is also a music fan, an avid golfer, and loves spending his summers in Delaware with his wife, Stacy, and his three children, Mara (12), Tali (10), and Elliot (5).
"Tangibly seeing change and attempted change at a community level inspires me to serve," said Forman.  "I remember spending all day at a food pantry in Baltimore City and talking to residents about their daily experiences and the importance of having the pantry as a resource. That memorable day really impacted me and my continued focus on service in the community."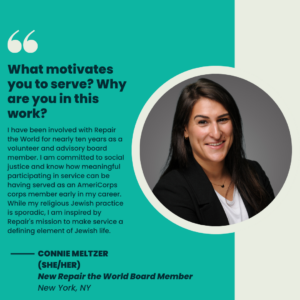 Connie Meltzer (she/her), New York, NY. Connie Meltzer began her career as an AmeriCorps member with a college access and success organization. Since then, she has continued to work with nonprofits as a team member or a consultant in development, programs, finance, and operations. Currently, she is a manager in BDO's Nonprofit and Grantmaker Advisory practice working with complex organizations to ensure their leaders have the finance and operations staffing, processes, and technology in place so they can focus on making change in their communities. Connie has been involved with Repair the World since 2014. She currently lives in Brooklyn with her dog, Babs.
"I have been involved with Repair the World for nearly ten years as a volunteer and advisory board member. I am committed to social justice and know how meaningful participating in service can be having served as an AmeriCorps corps member early in my career. While my religious Jewish practice is sporadic, I am inspired by Repair's mission to make service a defining element of Jewish life."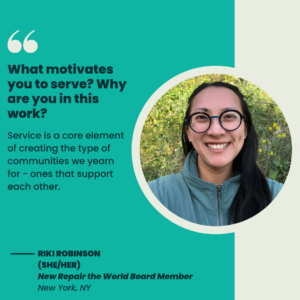 Riki Robinson (she/her), New York, NY. Riki Robinson is passionate about equity and incorporating Judaism into social justice pursuits. She has been dedicated to initiatives focused on racial diversity, inclusion, and equity in the Jewish community and she spearheaded programming designed especially for Jews of Color in New York City. Riki was a member of the inaugural board for Ammud: the Jews of Color Torah Academy which is focused on access to Jewish education for Jews of Color. She was a 2018-19 fellow with Repair the World in Brooklyn where she learned about urban farming, food pantries, and SNAP benefits along with a Jewish lens to community engagement. She also has a background working in Asian American Pacific Islander organizations as well as immigration justice groups.
"Service is a core element of creating the type of communities we yearn for – ones that support each other," said Robinson.  "This ideal really motivates me to serve and continue this work."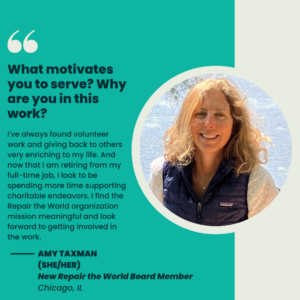 Amy Taxman (she/her), Chicago, IL. Amy Taxman is a strategic, collaborative, and agile business leader with thirty years of experience in the field of human resources. For the past ten years, Amy has worked as a global human resources business partner to senior leaders at Walgreens Boots Alliance. Prior to her current role, she has held roles with increasing responsibility in human resources at several large companies including Fortune Brands, RR Donnelley, Solo Cup, and Zebra Technologies. Amy graduated with a bachelor's degree in economics from the University of Michigan and earned an MBA from the University of Illinois at Chicago. She is the mom of two adult children and currently resides in the Chicagoland area with her husband and their Labrador retriever Winnie. 
'I've always found volunteer work and giving back to others very enriching to my life. And, now that I am retiring from my full-time job, I look to be spending more time supporting charitable endeavors," said Taxman. "I find the Repair the World mission meaningful and look forward to getting involved."
# # #
About Repair the World
Repair the World mobilizes Jews and their communities to take action to pursue a just world, igniting a lifelong commitment to service. In 2009, Repair the World began elevating meaningful service as a defining element of Jewish life by engaging Jewish young adults in service and learning to meet pressing local needs. Today, inspired by our values, we activate a national service movement, mobilizing partners and tens of thousands of Jewish young adults and their communities to serve alongside our neighbors. Please visit our website for more information.