Upon moving into Highlandtown, the fellows began to explore different parts of our new neighborhood. We met store owners, leaders of important local organizations, and some across-the-street neighbors. With every person I met came a deeper feeling of belonging and connection to where we live and work. Still I wondered, as I walked past row home after row home on my way to our workshop, who lives behind these doors?
A few months ago, the Repair the World: Baltimore fellows got word of a tree box build happening just two streets over from our Highlandtown home. The greening committee of our community association had been awarded a grant to fund the building of wooden tree boxes for the newly-planted street trees on Highland Ave. I was eager to meet more neighbors, so I bundled up bright and early and headed out to build.
My work with Baltimore Orchard Project, an organization that plants and harvests fruit and nut trees in Baltimore city, has grown my interest in trees and taught me a lot about the benefits of trees in the urban environment. I went into this tree box build knowing that trees not only serve as beautification and a little extra shade, but also provide stormwater management, increased resident satisfaction, increased home value, and much more. I even knew that street tree boxes and fences reduce street trash dumping and litter and increase the tree's life expectancy. This project was a win-win for the trees and the neighborhood!
Little did I know, it was a win-win-win…win!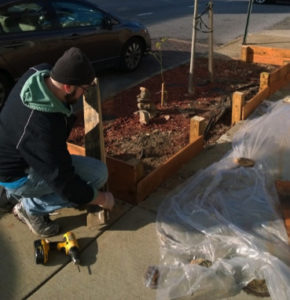 Upon arriving, I was greeted by a handful of friendly residents wanting to know all about me and how I ended up living in Highlandtown. Naturally, I wanted to know the same about them. These conversations became sharing of life stories. I learned about my neighbors' decisions to move into our non-gentrified area, the jobs that brought them to Baltimore city, and the spouses with which they have started this next chapter of homeownership.
Before we knew it, we were tackling more than just the issues of concrete where wooden posts are supposed to be and drills running out of battery – we were tackling the problems of our neighborhood not only through action but through conversation.
By the end of the day, we had built five beautiful tree boxes and new relationships. Repair the World was suddenly open to many possibilities for future partnership with the community association, with a local church, and with people who truly care about their community.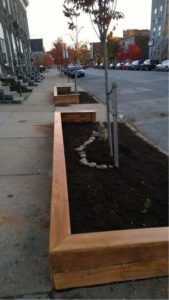 This neighborhood gathering was a pooling of resources that resulted in many benefits for the neighborhood, the baby trees, the community association, and me! I left feeling quite accomplished and very much connected. I now imagine the homes I walk by every day filled with people I know, not strangers I may never meet. Instead of assuming fellow pedestrians are strangers, I look up to search their faces for familiarity.
Now every time I ride or walk down Highland Ave., I am sure to point out to any and every person with me that I had a hand in making those beautiful tree boxes. My pride and sense of ownership in those moments reminds me of how people can really change neighborhoods, one building project or conversation at a time. This project showed me how building something with another person creates a certain bond that is upheld within that structure itself. It stands as a physical reminder of all we can do together, which is why I jumped at the chance to help build a fence at the Highlandtown Elementary/Middle School this month, too!
And the connections continue…
Lauren Fine is a Repair the World Fellow in Baltimore, MD. Learn more >>