The following post is by Rebekkah (Bekkah) Scharf, food justice fellow with Repair the World Philadelphia. Bekkah identifies as a SF-born Hapa and Jewish Chinese-American; she attended the University of California: Santa Cruz, and is member of Kol Tzedek Synagogue in West Philadelphia.
"It is beautiful and rare to have Jewish spaces where I walk through the door and think: I belong." Sabrina Sojourner is a Chazzan, chaplain, and attendee of the 18th annual Jewish Multiracial Network (JMN) family retreat on May 12th-15th.
I felt a sense of relief wash over me, filling every pore of my skin, every braciole in my lungs, and a lump in my throat, as her words resonated with me and every other person in the space. It was a breath of fresh air: I had found my people.
Finally.
In August I moved from the San Francisco Bay Area to Philadelphia, yet to find a space where Jews of Color and patrilineal Jews like myself, felt welcome. I had met Tamara Fish, the current president of JMN, at the Repair the World: Service Matters conference last year. According to Fish, JMN "is the only grassroots Jew of Color organizing group run by Jews of Color, whose demographics range from every permutation of family imaginable, both progressive and traditional from renewal, and everything in-between." Several months later, she encouraged me to attend their family retreat.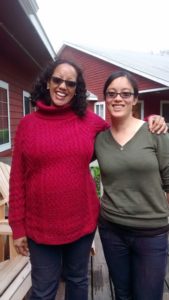 I did not only feel welcome, but celebrated. I did not only feel comfortable, but like a giant weight had been lifted off my shoulders. I discovered something critically important missing in my life, something I had recently heard of, but never seen with my own eyes: a thriving, multi-ethnic, intergenerational Jewish community. And a space where I was allowed–no– empowered, to unravel, reflect, discuss, and most importantly, celebrate our shared experiences, with 70 other Jews of Color and white allies, of all ages.
I davened, studied, and learned with young adults, parents, teens, kids, and entire families, Orthodox and progressive alike. African, African  American, Filipino American, Chinese American, and Latinx American Jews, LGBTQ Jews, from six months to elderly, were in attendance. Traditional and progressive Shabbat services were held on Friday night and Saturday morning, where we counted the Omer and read from the Torah.
I hugged babies and played with the children, shared, listened, and met people who now feel like family. I exchanged stories and life experiences with other Jews of Color and their families, most of whom I had just met that weekend.
I grieved, raw, emotionally, and unexpectedly, with people who truly understood, grateful for every single moment, the Shehecheyanu playing in my head like a broken record.
As Rabbi Mira Rivera, the first Jew of Color at Jewish Theological Seminary to be ordained (two years ago), said afterwards: "The community we have here is every rabbi's dream." Rivera is a Chaplain Fellow at DOROT in New York City, and teaches Jews of Color, allies and co-conspirators through Harlem Hevruta.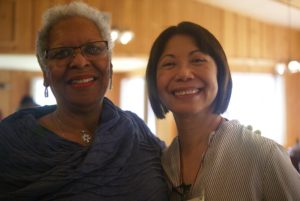 When we gathered for Shabbat dinner, it indeed felt like a dream come true. For the first time in my life, I was surrounded by people who looked like me, families that looked like mine, and children running around and playing together, like it were any other Shabbat. I had to remind myself that it was real, that I there as well, not an outsider looking in.
Together we sang a nigun as we lit the candles, parents held their children's heads and said the brucha, and Rabbi Mira and Sabrina Sojourner raised the tallit over their heads and called for the children to gather underneath. We sang and celebrated the children, their beautiful faces. We celebrated each other, in their presence our unity, together, as a people. Our skin colors a spectrum, our families all shapes and sizes, our children, smiles, joy and unquestioned belonging.
It was overwhelmingly…normal.
It was perfect.
It was beautiful.
It was feeling that I could not put into words, until a song returned to my memory: Hinei ma tov uma naim shevet achim gam yachad.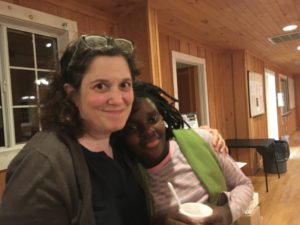 "How good and pleasant it is for people to sit together in unity." How precious was is to celebrate every single person in the room, exactly as they are, white, Black, AAPI,Latinx, and mixed. Orthodox and progressive, Jews by choice and by birth, patrilineal and matrilineal, single and coupled, families and individuals, young and old.
The babies, clueless to the miracle surrounding them, the children, who will not begin to comprehend the sacredness of this space, until they are years older.
And the teens, parents, and young adults like myself, who do know, savoring every note, laugh, smile, and clap, holding every moment tight in our hearts.
Knowing of the looks, actions, questioning, and isolation to come, subtle and unsubtle, as they always have, in which remembering this moment will keep us grounded in our very sanity.
And knowing that we are loved, belonged, and matter. And I know this because I was there, taking it in all at once, living in the moment.
And in that moment, I felt me.
I felt holy.
I felt everything.
I felt home.
A special shout-out to Chava Shervington, Tamara Fish, Sabrina Sojourner, Rabbi Mira Rivera, all of the JMN leaders, organizers and volunteers, and everyone else who made the 18th annual JMN retreat possible. Thank you for helping create such a meaningful and transformative experience for so many individuals and families seeking a brave, inclusive space, for the past 18 years. Thank you to the many individuals not mentioned here, who offered your listening ears and hearts, genuine selves, support, trust, friendship, and open arms.