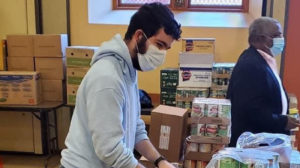 Jay (he/him) grew up in a family where service and giving back were important. "I grew up through Cub Scouts and Boy Scouts so volunteering and giving back to the community was significant growing up. In addition to Boy Scouts, my family also served with Jewish and Family Child Services Massachusetts, delivering food to those who were food insecure. And through that I learned how vital volunteerism is to making sure that the vital needs of many community members are met."
Jay originally learned about Repair the World through a former fellow and classmate, Monica Sager. "She told me it was a great opportunity to give back. Of course, during Covid I haven't had a lot of time to volunteer, so I thought this would be great way to get back into volunteering and to give back to the community. I applied to be a corps member and interviewed with the wonderful Katie Hamburg. I was accepted and here I am today—engaging in meaningful service."
Jay notes that the beginning of his time as Service Corps member was deeply impactful for him, and important. "I found it to be very warm and welcoming, an environment where you could thrive and also ask for help," Jay says.
"The different leaders in the program and organizational partners are all open, very warm, very communicative; they want you to succeed."
At Boston Repair, during Jay's first cohort he focused on crafting disability policy briefs with The Lurie Institute for Disability Policy at Brandeis University. He currently crafts housing policy briefs with The Neighborhood Developers in Chelsea, Massachusetts. Interestingly, these experiences transformed Jay's vision of "service."
"Before coming to the Service Corps I always thought that volunteering was getting out there and physically interacting with your environment—physically packing a bag of food to somebody, stuff like that," he adds. "And now, I've seen through the Service Corps the behind the scenes work of developing policy to help people. This work is just as impactful as giving somebody a bag of food. That's what really has hit home for me—no matter how someone gives back to the community, we can all be a part of creating change."
As Jay continues his service, he is hopeful that his current role working with neighborhood developers will continue to give him the opportunity to interact with the public and see a physical attachment to his volunteer work.