One Woman's Quest to Repair the World by Inspiring American Jewish Volunteerism
Points of Light
This article first appeared on The Daily Point of Light Blog on October 24, 2023.
Lisa Eisen of Washington, D.C., is no stranger to service. Raised Jewish, she had the Jewish values of responsibility and justice instilled from a young age.
"I've been volunteering since I was a little girl," Lisa shared. "My parents took me to volunteer all the time. They instilled in me an ethic of service to others – part of the Jewish values that inspired our family – especially the value of tikkun olam, which is 'repairing the world.'"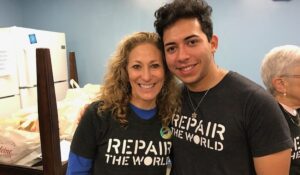 Today, Lisa is co-president at Charles and Lynn Schusterman Family Philanthropies, where she oversees the organization's U.S. Jewish Grantmaking and Gender and Reproductive Equity Grantmaking portfolios. It was through Schusterman's work in the Jewish community that Lisa saw the vision for thousands of young Jewish adults to volunteer in their communities to address homelessness, food insecurity, education inequity and other challenges. Lisa followed suit, gathering a dynamic board and staff to launch Repair the World, a nonprofit that mobilizes Jewish people and their communities to engage in service. Lisa served as the organization's founding board chair.
"I saw the need to engage Jews, especially young people, in getting involved with their communities and living out their Jewish values," said Lisa. "So, we worked with several other foundations to launch Repair the World. I chaired the board for many years, I still serve on the board and I have volunteered in several of the communities in which Repair works."